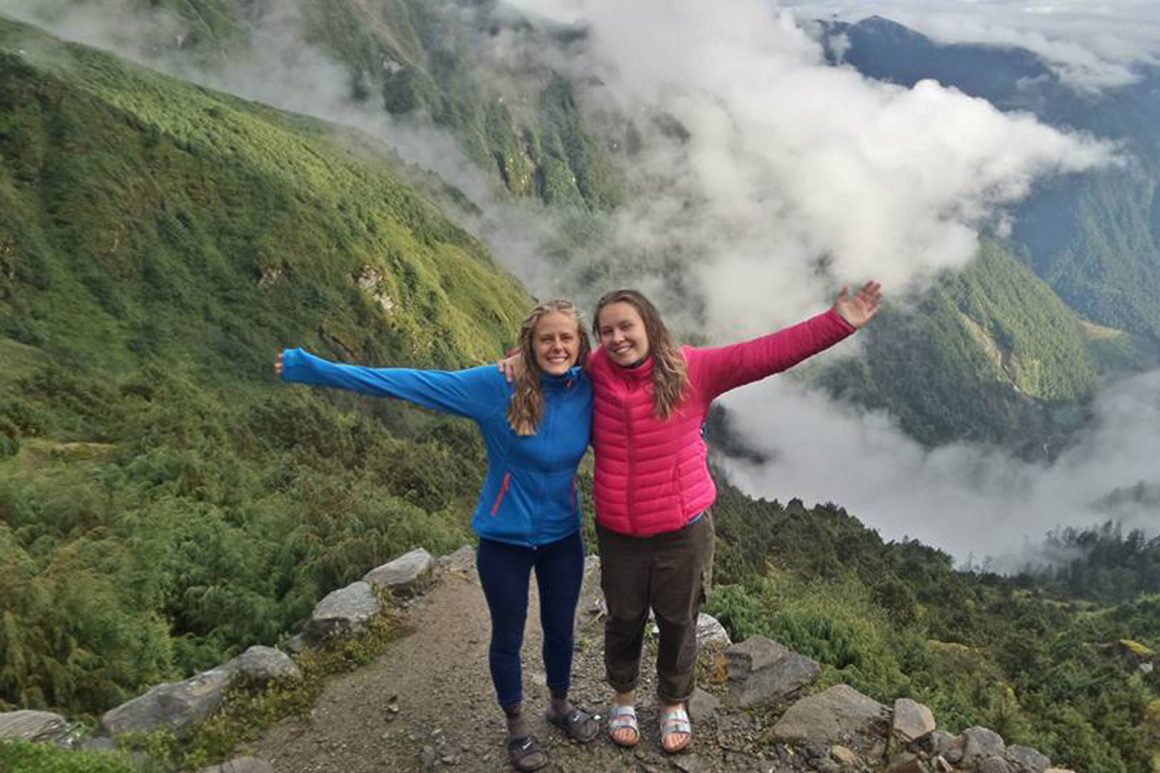 If you can lead your peers up a mountain, you can lead in life!
Learn practical climbing techniques and lessons on life while traversing the breathtaking slopes of Nepal!
Dive into one of the most scenic countries of the world, a place where you'll learn the art of mountain climbing along with leadership skills that will help you ascend to the top of any field you choose to pursue.
The 3 Week Mountain Leadership Course begins in Nepal's Royal Beach Camp-home of entertaining activities like rafting, kayaking and canyoneering that will be a part of this life-changing journey!
But you'll climb to many more heights than just Nepal's Peaks…
The Mountain Leadership Course is full of knowledge, entertainment, team-building, and leadership-building skills!
Experience training at peaks close to the base-camp that extend to 2100 meters. Then, give back to Nepal's Beautiful Environment by participating in Sustainability Work on a tree plantation that will compensate for air travel and transportation during the trip!
As you travel to different Mountains of Nepal, you'll be compiling a list of Mountain Tasks and descriptions for presentation to the group at the end of the Mountain Leadership Course so that you can all share in each other's journeys and leadership lessons learned amongst the slopes!
Your first Trek takes place in grandiose Pokhara! Enjoy a Day Trek involving many stairs to get ready for the journey over the Annapurna Mountain Range the next day that leads to the top of Poon Hill at 3500 meters!
To round out Week 2 of the Mountain Leadership Course, hike along the mountain ridges to the Rhododendron Forest for the perfect view of the rare Machhapuchere Mountain (one of the most unique peaks in the world).
Week 3 of the Mountain Leadership Course begins from the Annapurna Base Camp (4500 meters above sea level) with a dip in the hot springs before two more days of trekking the wondrous mountain range.
The final days of the Mountain Leadership Course back at the Royal Beach Camp involve presenting your Mountain Tasks to the team and then a final day shopping extravaganza in Kathmandu!
The Mountain Leadership Course is full of daily activities that will challenge you, help you grow in mind, body, and spirit, and become more in tune with your surroundings and the parts of your personality that will grow to be a leader amongst your peers!
Trek across one of the most beautiful mountain ranges in the world and become the leader you were born to be! Spots fill up fast for an opportunity like this! Sign up today for the journey of a lifetime!
WEEK 1 – Focus: Introduction & Sustainability.

Day 1 – Arrival to Kathmandu. Transfer to The Royal Beach Camp and settle in.

Day 2 – Introduction to your leader, the team, the camp and schedule. Introduction to one of our activities: rafting, kayaking or canyoneering.

Day 3 – Daily Camp Schedule* starts. Introduction to some of our team building games and another one of our activities.

Day 4 – Training hike to local peak (2100 m) and sustainability workshop.

Day 5 – Sustainability work through tree plantation the participant is both helping to restore and protect local ecosystems but also compensating for their air travel and transportation in Nepal.

Day 6 – Rest day. Packing & preparations for the trek.

Day 7 – Transport to Pokhara. Meet mountain team and final preparations.

WEEK 2 – Focus: Trekking & Leadership.

Day 8  –  Start Trekking**.

Day 9  –  Trek. This trek goes from one local village to the next and gives great opportunity to meet people, locals and trekkers alike.

Day 10 – Trek. Tough day with lots of stairs!

Day 11 – Trek. Watch the beautiful morning sunrise over the Annapurna Mountain Range from Poon Hill (3500 m).

Day 12 – Trek. Trek along a ridge through the beautiful Rhododendron forest.

Day 13 – Trek. Spot the sacred Machhapuchere Mountain with its unique peak.

Day 14 – Trek. Reach Annapurna Base Camp (4500 m).

WEEK 3 – Focus: Mountain Tasks & Reflection.

Day 15 – Trek. Treat yourself with a dip in the hotsprings!

Day 16 – Trek.

Day 17 – Final day of trek, return to Pokhara.

Day 18 – Transport to Royal Beach Camp. Prepare to present Mountain Tasks.

Day 19 – Present the Mountain Tasks to the team. Feedback session and time for packing. Let's celebrate your time with us over a campfire BBQ on the beach!

Day 20 – Travel to Kathmandu. Personal time for shopping or short sightseeing.

Day 21 – Departure.

---

*DAILY CAMP SCHEDULE – Participants work along side our experienced team and have one assigned leader.

06:00 – 06:30            Morning exercise / yoga / stretching.

06:30 – 07:00            Morning meeting.

07:00 – 08:00            Breakfast.

08:00 – 12:00            Activity or work.

12:00 – 13:00            Lunch.

13:00 – 17:00            Work or activity.

17:00 – 18:00            Tea & coffee. Meeting & debrief.

18:00 – 19:00            Dinner.

19:00 – 22:00            Story telling with the team.

**DAILY TREK SCHEDULE – Participants take turns to be daily leader of the group, with support from our experienced team. The participants receive a number of Mountain Tasks to work, reflect on and later present to the team.

06:00 – 06:30             Morning exercise / yoga / stretching.

06:30 – 07:00             Morning meeting.

07:00 – 08:00             Breakfast.

08:00 – 12:00             Trekking.

12:00 – 13:00             Lunch.

13:00 – 17:00             Trekking.

17:00 – 18:00             Meeting & debrief.  Mountain tasks.

18:00 – 22:00             Dinner & relax.
Like all of our exciting Educational Tour options, this tour offers participants a carefully crafted balance of learning elements (lessons, lectures, seminars, field study, etc), planned activities and excursions (cultural activities, mini-tours, sightseeing, etc) and free time for you to explore in your own way or to simply relax. This is what makes Worldaway Learning Tours so unique!
Here's what you can expect on this tour*:
*Breakdown provided for informational purposes only. Individual experiences may differ. 
We know you are going to have a great time and learn a lot on this tour – but don't take our word for it! Here is just a sample of the feedback we have received from recent participants:
Opps! Our Review system is currently undergoing maintenance. Please check back soon.
The Mountain Leadership Course (21 Days)
Learn to lead in a truly remarkable location!
3+ Star Hotels w/Daily Breakfast
Twin or Multi-Share w/Bathroom (split by gender)
Mountain Trekking in the Himalayas + White Water Rafting
Summit a Himalayan Peak!
Kayak some of the world's best rivers
2 x Airport Transfers
Learn how to rock climb with professionals!!
including:
Accommodation w/Meals, Mountain Equipment, River Gear, International Instructors & Guides
Certificate of Completion
Interested in joining this tour or simply want to learn more? Complete the form below and one of our dedicated Tour Consultants will be in touch shortly. Easy!
*WIN A FREE TOUR ON US!*
Share this tour with your friends and automatically go into the draw to win a 2-week Educational Travel Experience of your choosing, anywhere in the world!
*Terms and Conditions Apply