Morocco is a country unlike any other in the world, its blend of history, colors, and culture are a sight that you will never forget.  Learn about the people past and present of this wonderful country with Worldaway's Educational Learning Tours.  Venture into the past and marvel at world renowned cities such as the blue city of Chefchaouen, Casablanca, and Marrakesh.  Your vacation will mean so much more than just pictures for social media, because you will learn the nation and culture firsthand with local guides.  With us, you will have a trip that is equal parts scenic and study abroad that you can't possibly get anywhere else.
If this wasn't enough to convince you, here are 5 top reasons to take an educational tour in Morocco:
On your tour you will learn Arabic from some of the best professional teachers that Morocco has to offer.  If Arabic isn't your cup of tea, you're in luck because the second most widely spoken language in Morocco is French.  Whether it be one on one or in a small group setting your classes will be both informational and educational.  With your new found Arabic or French knowledge you'll practice with native speakers throughout the country.  Immerse yourself and you'll feel like a pro in no time at all.  Language master or newbie, these educational Morocco tours will teach you a thing or two!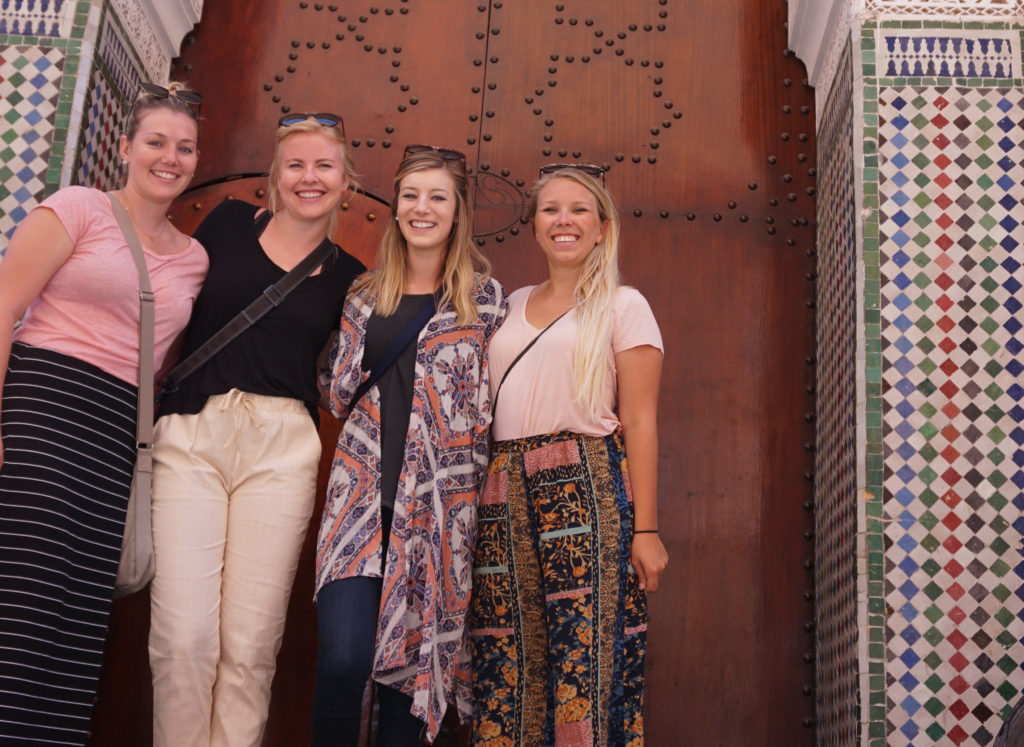 A country with a diverse history that encompasses the influences of the Berbers, Romans, French and Spanish, Morocco is a world of a country.  Through the local attractions with historical value, you'll gain in-depth, firsthand learning opportunities.  One example of this is a visit to Hassan Tour, the world's largest Minaret and a World Heritage Site, will teach you about the Muslim religion in Morocco.  The cities will make you feel like you've been transported back in time and can be tricky to navigate their labyrinth of narrow streets.  You'll experience something completely new and step out of your comfort zone.
Your educational tour in Morocco will combine both education and tourism in one trip!
3. Environmental Conservation
Along with a lively and unique culture, Morocco has amazing wildlife.  The largely desert climate of the country is home to a variety of rare animals.  National parks and reserves have been created throughout the country to protect the various ecosystems in Morocco.
From mountains, deserts, beaches and everything in between Morocco has it all and more.  It also boasts cities filled with magnificent architecture that's both modern and historic.  The awe inspiring scenery can be seen through the Atlantic, the Mediterranean and the expansive Sahara desert.  Take a hike through the Atlas mountains, or trek through a less well known route to see Morocco from above.  Educational and jaw-dropping sights can be seen through the sprawling textile mills, ancient fortresses, mausoleums, and medinas.
Souks, are frantic shopping markets where you can hustle and haggle your way to a deal.  You'll find stalls filled with ceramics, leather goods, textiles, spices, jewelry and the odd animal or two.  Try not to get lost in the souks maze and resist the urge to buy everything and anything.  These markets are a vibrant, colorful place like no other.
Morocco has tasty, mouth-watering cuisine that's famous around the world.  The most well-known dishes include couscous and tagine, the national dish which is a slow cooked stew.  Of course there is so much more than that.  During your educational tour in Morocco you'll take a cooking class to learn the local cuisine.  Take your knowledge home and cook for friends and family!  Everywhere you go you'll be offered a taste of the famous sweet Moroccan mint tea.  It's freshly brewed of course and incredible.
Language, culture or food, Morocco has something for everyone.
Through your educational Morocco tour you'll visit sights that will surely inspire you, while also offering hands on information.  This trip will challenge you, make you step out of your comfort zone, and help you learn from more than just pictures or a book.  Our tours will give you a wealth of knowledge and memories of a lifetime.  Gain a newfound appreciation for a culture that's completely different from your own and visit Morocco with Worldaway Learning Tours.